If you are having a baby, a doula may be just what you need to facilitate a comfortable pregnancy and birth. Doulas are trained workers who support you in a non-medical capacity through pregnancy, birth, and the postpartum period. They provide education on the process of labor and delivery, advocacy for the needs of the birthing person, and tailored physical and emotional support. Keep in mind that doulas are not replacements for obstetricians or midwives, nor do they replace a partner.
Mary's Center has just started a Doula Referral Program to connect our pregnant participants with professional doulas from the training organization Graceful Fusion. The doulas work on a volunteer basis, offering their services free of charge regardless of insurance status or ability to pay.
In honor of International Doula Month in May, learn more about what doulas can offer from Dr. Chinita "Sheena" Richardson and Sonia Haskins, two of the first doulas to work with Mary's Center participants through this referral program.
Was there a specific experience or passion that led you to become a doula?
Dr. Sheena: Growing up, I witnessed my mother working as a registered nurse in labor and delivery. Oftentimes, these same women would reach out to her throughout their lives and thank her for her support. My mother died in 2019 surrounded by these very same families throughout her battle with cancer. After accepting my mother's transition and to honor her life, I decided to pursue becoming a doula. Once I made the decision, I knew it was the right choice because all things felt natural. This is my calling and I thank my mother for preparing me for the journey.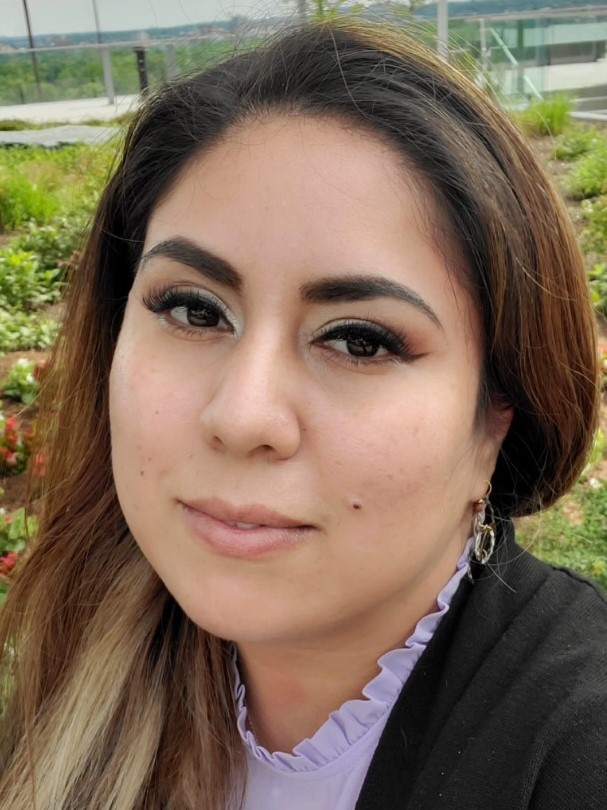 Sonia: My passion has been always working with pregnant clients; this was a dream I had since I was a little girl. When I moved to the United States from Guatemala, fulfilling my dream was a long process. I had to learn the American culture and the English language to be able to educate myself about pregnancy and postpartum within this country's standards, but it was worth it. Now, as a bilingual doula, it is amazing to help new parents and their families during this journey, especially the Hispanic population. My experience as a former military spouse and having a biracial family opened doors for opportunities to support more families like mine. Sharing common cultural dilemmas/experiences that families go through during the birth of a new life for all these families is especially important so they feel understood.
What are some ways you provide emotional and/or social support to clients as a doula?
Dr. Sheena: Clients want to feel a sense of pride and empowerment. It's my responsibility to enhance their ability to have positive birth memories and experiences by helping them to see all situations in a positive way. I use techniques such as mirroring by calmly describing what someone is experiencing and echoing back the same feelings and intensity. I practice accepting what someone wants with no judgments. We work through fears and self-doubt, and I listen with empathy.
Sonia: Each client and family are different. Doulas learn to listen to not just words, but also body language. When you tune into the family's excitement, needs, and fears, you can support them where they are emotionally, physically, and spiritually. Emotional support is given by supporting the client's choices and validating their feelings during the pregnancy and birth. Social support is provided when some of my clients need community resources and do not know how to navigate the system.
Do you consider your work as a doula to be a form of advocacy or activism? How so?
Dr. Sheena: Both. I support the birthing person and their family to gain what they need from the system. I encourage them to ask questions and verbalize preferences. I make sure her voice is amplified when I have observed her being dismissed, ignored, or not heard. I create space and facilitate communication between her and the care providers. As an activist, I support and encourage legislation to call for necessary measures to reduce the mortality rates.
Sonia: I do consider my work as a form of advocacy because some clients do not know that they can make decisions over their pregnancy and birth. For some families, it goes further as they can encounter racism for being Hispanic and not knowing how to speak English. Many of them often receive a lack of empathy and respect, and their concerns are ignored during their care.
How can doulas support birthing people from marginalized communities in particular (women, POC, young, single, queer, low-income folks)?
Dr. Sheena: Statistics show that marginalized communities experience more pain with childbirth, epidurals, and negative feelings about childbirth. It is my experience that when there is continuous support from a doula, the birthing person is more likely to have a spontaneous vaginal birth and less likely to experience vacuum or forceps-assisted births and cesareans, etc. Also, the evidence of postpartum depression with doula support is minimal and/or reduced.
Sonia: I provide more access to these clients, and working with low-income clients has been a personal goal. I have reached this goal through a partnership with a church, and volunteering programs that offer free services to these marginalized communities.
What is a common misconception people have about doulas, or what do you wish more people knew about doulas?
Dr. Sheena: I wish more marginalized people were introduced to our practice. It is a misconception that doulas work only with affluent people.
Sonia: We are not there to take their partners' place but to assist them. During labor, a partner's protective mode towards mom and baby often makes them say yes to any intervention without weighing the pros or cons of their decisions. As doulas, we are trained to bring calm, and with our feet on the earth we help clients to weigh their options.
---
Questions about the Doula Referral Program? Contact Austyn Holleman at aholleman@maryscenter.org.