Dr. Vineet Dhar loves seeing a child happy and unafraid after their dental appointment.
Mary's Center's Social Change Model makes that possible by combining healthcare, social services, and education all under one roof. Dr. Dhar upholds the Social Change Model by always looking for ways to help others and make a positive impact on the community. 
In honor of National Children's Dental Health Month, we spoke with Dr. Dhar, of the University of Maryland — Baltimore, and Mary's Center, to learn more about his passion for advocating for children's oral health.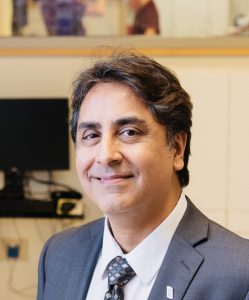 Why did you become a dentist?
I have always had a keen interest in healthcare sciences. Since no one else had a healthcare background in my family, I decided to shadow medical and dental practitioners during my high school years. I remember being fascinated by how dentistry connects art with science! In addition to career stability, I valued the opportunity to help others and have a positive impact on the community. It is rewarding to see the difference a dentist could make in their patient's life. I also enjoyed the variety of experiences dentistry offered. My love for learning and the ability to make a difference made dentistry an easy career choice for me.
What do you like most about working with children?
Everything! It is very rewarding to see children have a positive experience in the dental office. I cherish the opportunity to help children develop healthy oral habits and maintain optimal oral health. My training as a pediatric dentist has prepared me to take care of children who may be anxious or may have complex health needs. As a dentist, I can provide age-appropriate anticipatory guidance, review the child's growth and development, and have a positive impact on their overall health and well-being. I am also extremely passionate about advocating for children's oral health!
Why is it important for kids to have regular dental cleanings?
Routine visits to the dentist help children become comfortable with their dental home and provide opportunities for regular dental cleanings. Regular cleanings are a wonderful way to educate children and their parents about oral health. It is also an opportunity to monitor children's growth and dental development to ensure that they are on track. During dental cleaning visits, the dentist or the hygienist removes the plaque and tartar from teeth, which are among the main causes of tooth decay and gum disease. Early detection of dental problems leads to its timely management and prevents them from becoming bigger, more painful, and costlier. Most importantly, regular dental cleanings help children develop good oral hygiene habits that can last a lifetime.
What should kids expect when they come for a cleaning? 
At the dental cleaning visit, the first step is for the dentist or the dental hygienist to examine the child's teeth, gums, and oral health. Depending on the age and the oral hygiene status of the child, the dentist or hygienist may use a combination of special tools along with a toothbrush to remove the plaque or tartar deposits from the teeth. After a thorough cleaning, the provider will also floss the child's teeth to remove plaque and food particles from between the teeth. This visit is a great opportunity for dentists to provide the child and parents with information on a healthy diet and home care such as the use of fluoridated toothpaste and flossing. The dentist may decide to take x-rays to check for cavities or assess teeth development. The last step at this visit is the application of topical fluoride to the child's teeth, which helps strengthen the teeth and prevents cavities.
---
Dental services for the whole family are available at Mary's Center's Fort Totten and Petworth locations in DC, and at our Silver Spring location in Maryland. We accept most insurance plans, including Medicaid. We also have a sliding scale if you do not have insurance. 
Make an appointment today by calling 1-844-796-2797 or filling out an online form here. 
---
We are especially grateful for the generous support of our dental services from both The Robert I. Schattner Foundation and Henry Schein. The Schattner Foundation has provided meaningful and essential contributions to purchase equipment and recruit and train staff to launch our pediatric dentistry program. Our longtime corporate partner Henry Schein continues to support our dental program with valuable technology, training, education, and supplies for our providers. Without the support of our partners, we would not be able to provide the comprehensive and up-to-date dental services that our participants need.