By Antonio Caro, Development Officer
"During the holidays, we tend to focus on materialistic things. What can you get? At the end of the year, it's important to think beyond what you want and focus on giving back. And it's not just a one-time gift. Even if you give by volunteering or by making a small contribution, your support is a long-term investment into our community's future. – Kola Garber, Mary's Center Board Member, Participant, Donor, and Volunteer.
Even in a normal year, the holidays can be long, strenuous, and filled with constant reminders of daily struggles for many Mary's Center participants with limited resources. This year, the pandemic adds a new layer of obstacles.
Fortunately, our participants have a community of supporters invested in their well-being – especially now when so many need a helping hand. One of these supporters is Mary's Center Board Member Kola Garber.
A family tradition.
For the past five years, Kola and her family – husband Ruben and daughter Lily – have made giving back to their community part of their holiday family tradition. Rooted in love, respect, and care for their fellow neighbors, their tradition consists of volunteering for Mary's Center's year-end drives and donating during the Center's year-end campaign, starting with Giving Tuesday.
"We love supporting Mary's Center, especially on Giving Tuesday. Every dollar you give goes to something of the utmost need," said Kola. "Mary's Center is able to identify families most in need by the work they do in dental, medical, and social services. An individual comes in needing help in one area and then has access to an entire range of wraparound services." When asked about other ways to give back, Kola responds, "It's not only about financial donations. It's about volunteering, being a patient, giving a toy or helping pack a Thanksgiving bag. It's about being part of the community."
From patient to supporter, Kola is part of our community.
Kola first came to Mary's Center as a patient when her doctor at the time, Dr. Tollie Elliott, accepted a position there. "Dr. Elliott is like family. Not only is he a great doctor, but he helped deliver Lily. When I found out he accepted a position at Mary's Center, I was not going to lose him."
Kola decided to make the switch. From the start, she was amazed by Mary's Center's model. "[At other clinics] it always seemed like healthcare was more of a money maker, but Mary's Center is different. You come in, get amazing care, and if you're insured, your visit helps offset the cost of the uninsured."
With a smile on her face, she says, "I'll never forget my first appointment back in 2015. I came to the clinic on a Saturday for a checkup. My daughter Lily was with me. The service was fast, the staff attentive, but what I'll never forget is what happened after the appointment." Kola begins to tear up as she reminisces, "I couldn't get Lily out of the waiting room. She turned to me as she played with the other kids and said, 'No, we can't leave yet mommy. I'm playing with my friends.' That was five years ago. I had been in DC since 1999 and it was the first time I felt such a strong sense of community. Despite language barriers and cultural differences, you feel a sense of unconditional respect and unity with each person in the clinic. Mary's Center truly felt like family."
Soon after her first appointment, Dr. Elliott, now Mary's Center's Chief Medical Officer, approached Kola and asked her to join the Board of Directors. With her experience as a Mary's Center participant and her scientific and management background, Kola would prove to be invaluable to the Board. She also saw this as an opportunity to strengthen her newfound community through leadership.
Leading by example.
Five years have passed since Kola joined Mary's Center's Board of Directors. Since then, she has provided guidance, volunteered, and given back in different capacities. From participating at Mary's Center's Thanksgiving Food and Holiday Toy Drives with her family to providing support at the onset of the pandemic, she has been a champion of care for the more than 60,000 individuals that turn to Mary's Center in their greatest moment of need.
"Being on the Board, I've witnessed the transformative impact of every dollar donated," shares Kola. "I've also seen the continued need for support. This year, more than others, our community needs a helping hand and the opportunity to access a safe place. That's why days like Giving Tuesday are so important. Whether it's $5 or $50, your support helps the entire community be better together."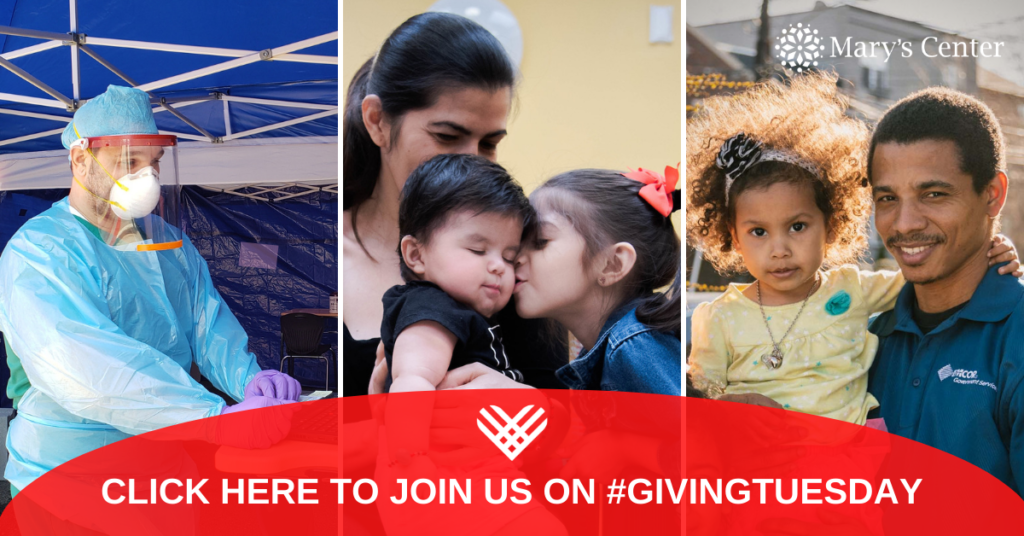 Our communities grow stronger when each person comes together to build a pathway to opportunity. Mary's Center helps individuals from all walks of life reach their full potential by opening access to healthcare, education, and social services – especially in times of crisis. Let's be better together and join Kola, her family, and Mary's Center's network of supporters on #GivingTuesday as we work to help thousands of under-resourced neighbors reclaim hope and access to a healthier future this holiday season. Click here to make your #GivingTuesday donation today.